Motor, generator, vibrator and pump sales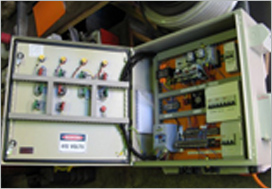 Electric Motor Solutions Pty Ltd uses and recommends motor control equipment from major suppliers such as CMG, TECO and WEG. As a customer you can be assured that motor control equipment matched by a major supplier to their motor will provide trouble-free service over a long time.
As well as supplying loose product, Electric Motor Solutions Pty Ltd can design and build IP66 cabinet mounted controls to your specification to suit your application. We use in our cabinets, products from the vast array of pushbuttons, indicators, switches,
contactors and associated plugin modules, VSD's and soft starters and so on which Weg manufacture in their own factory. Other supporting components are sourced from trusted suppliers.
Weg product is suitable for use with any brand of motor. However, as a proponent of the 'total motor package' concept, Weg have incorporated into their VSD's data matching their own motors which enables precise mapping of motor characteristics to VSD control. So confident are Weg of the reliability of this 'total motor package' concept that they offer double warranty on any new installation which matches Weg VSD to Weg motor at the same time.

We Provide
Variable speed drives
Soft starters
Star-Delta starters
Contactors – standard and mini – with a full range of options
Motor protective circuit breakers
DOL starters
Push buttons, indicators and switches
Electronic timing and protection relays
Vandal resistant push buttons
Motor forward/reversing switches single and three phase
Klinger Born specialty remote trip switches
Wire-wound single and multi-turn potentiometers for motor speed control