Motor, generator, vibrator and pump Repairs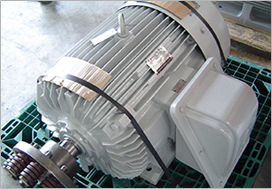 The cost of planned routine maintenance generally fades into insignificance when compared with the costs of a breakdown – loss of production, penalty rates, secondary related failures, call-out fees.
Electric Motor Solutions Pty Ltd employs skilled, trained professionals who are familiar with maintenance procedures and take pride in their work. You can be confident in the quality of refurbish work we undertake. Only the highest quality materials are used, and tests carried out prior to and subsequent to the repairs confirm and record product condition as it leaves our
workshop.

Rewinds are done
to all makes of
Single and multi-speed three phase motors up to 1000 volts
Single phase and DC motors
Submersible pumps
Brake coils and clutches
Magnet base equipment
Demag tapered stator motors
Welder transformers
We overhaul and provide the
following Services
Winding re-insulation, re-varnish and bake, including dryout of flooded motors
Bearing replacements, including journal and housing recovery
Shaft replacements and repairs
Balancing
Fitting of brakes, encoders, thermistors, RTD's, forced cooling
Special paint finishes if/as required
Written test reports on request