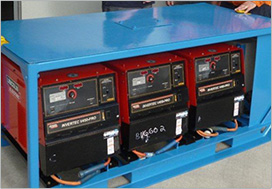 Electric Motor Solutions Pty Ltd, utilizing the resources of our affiliate Welding and Electrical Services, offers you access to a wide range of new and re-conditioned welder equipment, as well as specialist repairs.
Welding and Electrical Services is an authorized Lincoln service agent and warranty repair centre, employing factory-trained technicians.
Welding and Electrical Services has the capability to do from minor repairs to major rebuilds of all major brands of welders. They have in-house load testing capability up to 1000 + Amps. They are specialists in all submerged arc equipment, single and paralleled power sources, boom and self-propelled, single and twin-wire equipment.

View Brochure